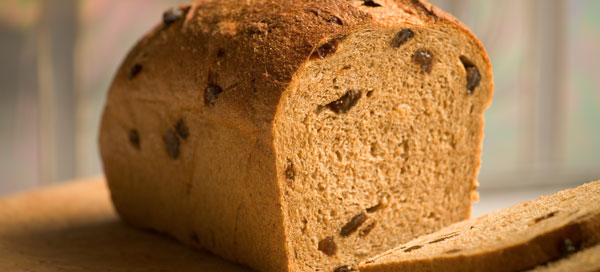 100% Whole Wheat Raisin Cinnamon

The world's best cinnamon—Saigon cinnamon—is used in our recipe. We also use sweet California raisins. It is healthy and a bit sweet—but not too sweet. Try a sample next time you're in the bakery.
Serving Suggestion
Try it toasted for breakfast or as an afternoon snack. This bread is also available in dinner rolls.
Also Perfect for
Nutrition Information for 100% Whole Wheat RAISIN CINNAMON
Ingredients: whole wheat flour, water, raisins, honey, salt, yeast, wheat gluten, cinnamon
Serving size: 1/2" slice
110 calories
0.5 g total fat
190 mg sodium
25 g carbs
3 g fiber
6 g sugar
4 g protein
Serving size: 1 roll
310 calories
2 g total fat
530 mg sodium
69 g carbs
9 g fiber
17 g sugar
10 g protein

100% Whole Wheat Raisin Cinnamon is available every day in Edina and is made every day except Sundays in Minnetonka and St. Paul.