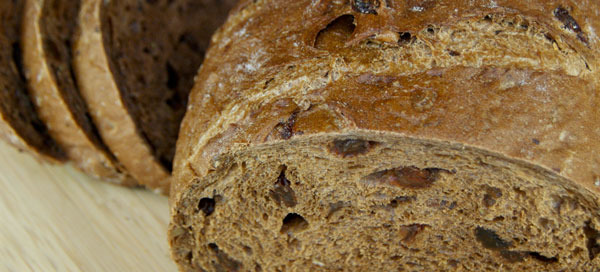 Dark Raisin Walnut Rye and Dark Rye

Light sour notes. Deep caramel color. Hints of sweet.
That's what you'll find in Dark Raisin Walnut Rye by Breadsmith. Its flavor is balanced, and it is richly satisfying with the walnuts. It's available as a loaf or as dinner rolls. At times we make a version without raisins and walnuts. Look for Dark Rye when you next visit our bakery locations.
Serving Suggestion
This bread is versatile and can work in meals for breakfast, lunch or dinner.
Also Perfect for
Toasting
Passing with dinner
Snacking
Nutrition Information for Dark Raisin Walnut Rye
Ingredients: unbleached-unbromated wheat flour, water, raisins, rye flour, walnuts, flaxseed, honey, caramel color, molasses, salt, yeast
Serving size: 1/2" slice
140 calories
3 g total fat
115 mg sodium
27 g carbs
2 g fiber
6 g sugar
4 g protein
Serving size: 1 roll
350 calories
7 g total fat
270 mg sodium
64 g carbs
4 g fiber
15 g sugar
10 g protein

Dark Raisin Walnut Rye is available every day except Sundays in Edina, Minnetonka and St. Paul. Dark Rye is made occasionally—look for it next time you visit.