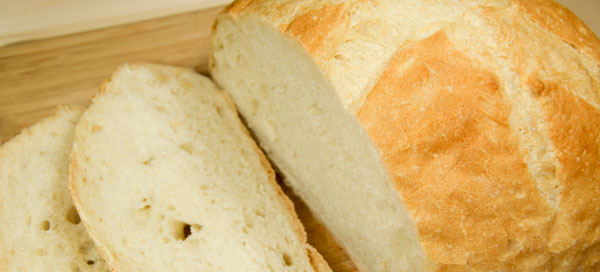 French Boule

Our expert bakers make this bread exceptional. The thick, crunch of the crust will transport your mind to a small café in France.
French Boule is made with the same dough as our French Baguette. For a smaller size, try our Petite Boule!
Serving Suggestion
The round loaf can be used for sandwiches or hollowed out to create a bowl for dips. It is also adaptable to a variety of recipes. Try it for French toast, bread pudding… the possibilities are endless!
Also Perfect for
Toasting
Sandwiches
Passing with dinner
Using in recipes
Serving at a festive occasion
Serves 4 to 6
Recipe:
Muffuletta
Adapted from Roadfood Sandwiches by Jane and Michael Stern, All Star Sandwich Bar, Cambridge, Massachusetts
1 loaf Breadsmith French Boule
5 to 6 ounces thinly sliced Genoa salami
5 to 6 ounces thinly sliced ham
5 to 6 ounces mortadella
5 to 6 ounces thinly sliced provolone cheese
Olive salad (recipe below)
Slice the loaf of bread in half horizontally and scoop out about half of the soft interior from the top and bottom (use for homemade bread crumbs). Brush the bottom of the loaf with the juice from the olive salad marinade. Layer on the cold cuts and cheese. Top the cold cuts with as much olive salad as will fit without spilling out. Replace the top of the loaf. Cut into wide wedges and serve.
Olive Salad
Makes 1 ½ cups, enough for 2 to 3 large loaf sandwiches
1 cup coarsely chopped green olives
¼ cup finely diced celery
¼ cup finely diced carrot
2 teaspoons chopped garlic
2 tablespoons dried oregano
1 teaspoon freshly ground pepper
¼ to ½ cup extra-virgin olive oil
2 tablespoons red wine vinegar
2 tablespoons fresh lemon juice
Thoroughly mix together all the ingredients in a medium bowl. Cover and marinate at room temperature for 12 hours. The salad will keep for several days refrigerated but gradually loses its punch.
Nutrition Information for French Boule
Ingredients: unbleached-unbromated wheat flour, water, salt, yeast
Serving size: 1/2" slice
100 calories
0 g total fat
230 mg sodium
21 g carbs
0 g fiber
0 g sugar
4 g protein
Serving size: 1/2" slice petite boule
90 calories
0 g total fat
200 mg sodium
19 g carbs
0 g fiber
0 g sugar
3 g protein
Serving size: 1 roll
240 calories
1 g total fat
530 mg sodium
49 g carbs
0 g fiber
1 g sugar
9 g protein

French Boule is available every day in Edina, Minnetonka and St. Paul.