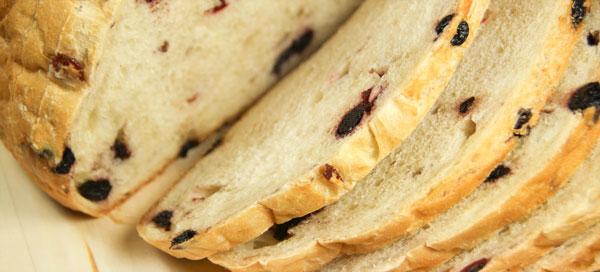 Blueberry Cranberry

The sweet and tart flavors of dried blueberries and cranberries pop in our Honey White bread. A touch of honey rounds out the flavors. Kids love it. Give it a try!
Serving Suggestion
Itís great for serving with dinner as something a little out of the ordinary.
Also Perfect for
Toasting
Passing with dinner
Snacking
Nutrition Information for Blueberry Cranberry
Ingredients: unbleached-unbromated wheat flour, water, honey, dried blueberries, dried cranberries, salt, yeast
Serving size: 1/2Ē slice
90 calories
0 g total fat
140 mg sodium
18 g carbs
1 g fiber
4 g sugar

Blueberry Cranberry bread is available Mondays, Saturdays and Sundays in Edina and St. Paul and Mondays and Saturdays in Minnetonka.