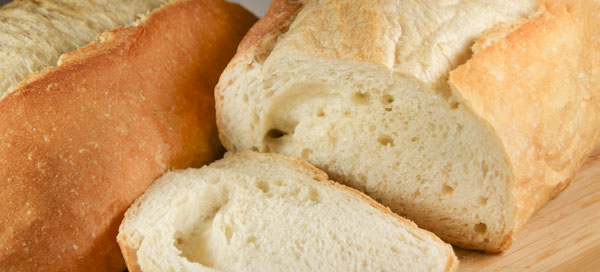 Rustic Italian

The crispy golden crust of Rustic Italian is indeed true to the word "rustic."
The inside is soft and fluffy with an open crumb and the kind of chewiness you expect. The flavor has a slight hint of tart in the background that only the sensitive catch.
Serving Suggestion
This versatile peasant bread is great for a number of uses including panzanella (recipe below), French toast or bread pudding.
Also Perfect for
Toasting
Sandwiches
Passing with dinner
Using in recipes
Serving at a festive occasion
Gift giving
Serves 6 to 8
Recipe:
Panzanella (Bread Salad)
Panzanella was developed in Italy in the 15th century as a way to use bread that was just past its prime so none went to waste. Its three staple ingredients—crusty bread, olive oil and vinegar—form the baseline. From there, other ingredients can be added based on what the cook has on hand and personal preference. Try your own version of panzanella today. Here's a recipe to get you started.
Panzanella
Adapted from SimplyRecipes.com
¼ to ½ cup high quality olive oil
¼ cup red wine vinegar
4 cups tomatoes, cut into large chunks
4 cups Breadsmith French Boule, French Baguette or Rustic Italian, cut into cubes (roughly same size as tomatoes)
1 cucumber, peeled and seeded, cut into large chunks
½ red onion, chopped
1 bunch fresh basil, torn into small pieces
Salt and pepper to taste
Check out your bread. If it is still fresh and soft on the interior, spread the cubes on a baking sheet and bake in a 300° oven for 5 to 10 minutes until the outer edges have dried a bit (but not toasted). Is your bread day-old and slightly dry? Skip this step and use it as is.
Whisk together the olive oil and red wine vinegar in a small bowl. In a large bowl, combine all the other ingredients. Pour the vinaigrette over the salad and toss. Season with salt and pepper. Let it marinate, covered and at room temperature, for at least 30 minutes or up to 12 hours.
Nutrition Information for Rustic Italian
Ingredients: unbleached-unbromated wheat flour, water, salt, yeast
Serving size: 1/2" slice
100 calories
0 g total fat
200 mg sodium
21 g carbs
0 g fiber
0 g sugar
4 g protein

Rustic Italian is available every day in Edina, Minnetonka and St. Paul.