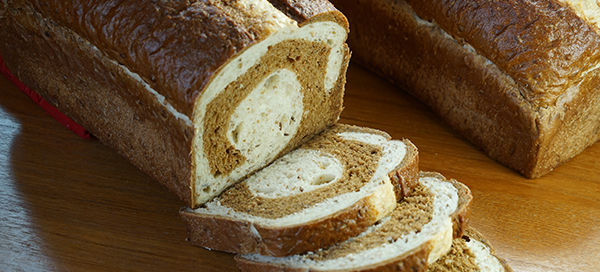 Marble Rye

Surprisingly soft. Swirls of color. Slight tang.
Marble Rye Bread by Breadsmith combines two different recipes into one masterpiece bread. A balance of flavor, it is accepting of butter, spreads and toppings. Itís new in the bakery, but its history is rich.
Serving Suggestion
This bread is unique. It can work in lunch sandwiches or as a fine dining accent.
Also Perfect for
Toasting
Passing with dinner
Snacking
Nutrition Information for Marble Rye
Ingredients: unbleached-unbromated wheat flour, water, rye meal, rye flour, flaxseed, honey, cornmeal, salt, onion, caramel color, molasses, yeast, caraway seeds
Serving size: 1/2Ē slice
120 calories
1 g total fat
170 mg sodium
24 g carbs
1 g fiber
2 g sugar
4 g protein

Marble Rye is available every day in Edina, Minnetonka and St. Paul. Look for it next time you visit.