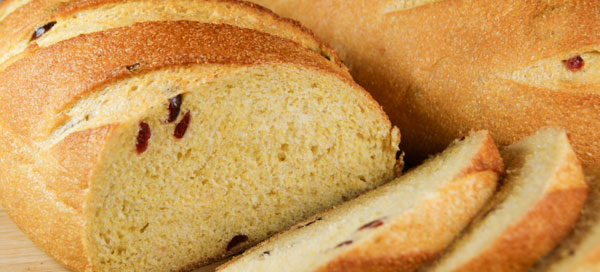 Cranberry Cornbread

Our golden-hued cornbread is dotted with dried cranberries and lightly sweetened with honey.
This version is leavened with yeast rather than baking powder, making the texture lighter and less cake-like. It is a favorite of adults and kids alike.
Serving Suggestion
This cornbread is great for holiday entertaining and is available as a loaf or as rolls.
Also Perfect for
Passing with dinner
Serving at a festive occasion
Gift giving
Nutrition Information for
Cranberry Cornbread
Ingredients: Unbleached-unbromated wheat flour, water, cornmeal, honey, dried cranberries, salt, yeast
Serving size: 1/2Ē slice
110 calories
0 g total fat
160 mg sodium
24 g carbs
1 g fiber
4 g sugar

Cranberry Cornbread is a seasonal (Holiday) bread.