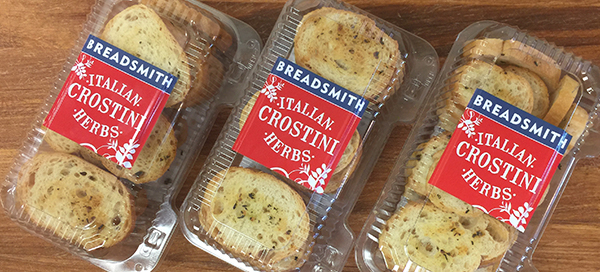 Crostini

We take our famed French Baguette and add Italian herbs, garlic and olive oil and bake until golden. They're delicious on their own, but we like to top them off to make delicious appetizers.
Serving Suggestion
Try topped with sundried tomato with roasted garlic, salmon spread with dill or ricotta with kalamata olives.
Also Perfect for
Appetizers
Using in recipes
Snacking
Serving at a festive occasion
Recipe:
Crostini Topping Ideas
Try topping Breadsmith Crostini with any of the following combinations.
Adapted from FoodNetwork.com
A layer of gorgonzola cheese with a slice of fresh pear
Shaved parmesan cheese over a layer of homemade pesto
A thin layer of butter, topped with a sprinkle of fleur de sel and thinly sliced radishes
Crumbled blue cheese and freshly chopped sage leaves atop a layer of apple butter
Fig jam topped with goat cheese and chopped walnuts
Nutrition Information for Crostini
Ingredients: slices of French Baguette, olive oil, salt, vinegar, garlic, Italian seasoning (oregano, basil, thyme, rosemary, marjoram)
Serving size: 1 oz.
140 calories
7 g total fat
230 mg sodium
15 g carbs
1 g fiber
0 g sugar
3 g protein

Crostini is available every day in Edina, Minnetonka and St. Paul.