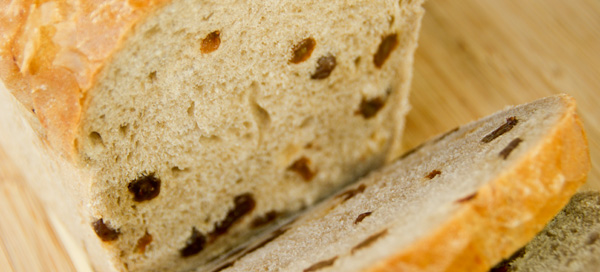 Raisin Cinnamon

No sugar is added to this delightful combination—just the goodness of California raisins and freshly cut Saigon cinnamon. The bread is a rich golden brown with a pleasant density and texture.
Serving Suggestion
Great toasted for breakfast or as a midday snack.
Also Perfect for
Toasting
Brunch
Snacking
Gift giving
Nutrition Information for Raisin Cinnamon
Ingredients: unbleached-unbromated wheat flour, water, raisins, salt, yeast, cinnamon
Serving size: 1/2" slice
110 calories
0 g total fat
180 mg sodium
25 g carbs
0 g fiber
4 g sugar
4 g protein
Serving size: 1 roll
260 calories
1 g total fat
410 mg sodium
57 g carbs
1 g fiber
10 g sugar
8 g protein

Raisin Cinnamon bread is available Wednesdays in Minnetonka and the first Monday of each month in Edina.