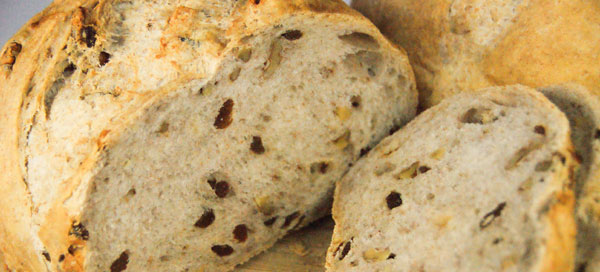 Raisin Walnut

The textures of raisins and walnuts are the hallmark of this subtly sweet bread. Each slice or roll includes pockets of raisins and walnuts for a satisfying treat.
Serving Suggestion
Try it toasted with peanut butter and honey for breakfast—a great way to start the day!
Also Perfect for
Toasting
Brunch
Passing with dinner
Snacking
Serving at a festive occasion
Gift giving
Recipe:
Homemade Flavored Cream Cheese
Try spreading this on a slice of toasted Raisin Walnut bread.
8 ounces cream cheese, softened
¼ cup jam or preserves of your choice (strawberry, raspberry, marmalade, etc.)
Blend cream cheese and jam in a food processor until well blended. Store in an airtight container in the refrigerator.
Nutrition Information for Raisin Walnut
Ingredients: unbleached-unbromated wheat flour, water, whole wheat flour, raisins, walnuts, salt, yeast
Serving size: 1/2" slice
130 calories
3 g total fat
180 mg sodium
23 g carbs
1 g fiber
5 g sugar
4 g protein
Serving size: 1 roll
290 calories
7 g total fat
420 mg sodium
53 g carbs
3 g fiber
11 g sugar
9 g protein

Raisin Walnut is available the first Sunday of the month in Edina, Minnetonka and St. Paul.