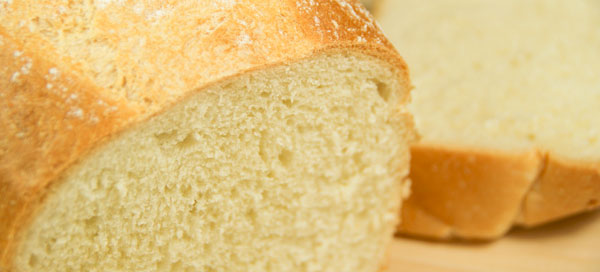 Country White

Have you ever treated yourself to high-quality white bread?
Country White is lightly sweet and subtly rich. It is a springy consistency, and the crust is a touch crunchy. Introduce yourself to white bread done well.
Clover Buns are made seasonally and as a special order at all three locations.
Serving Suggestion
We also make Country White in breadsticks and 2.5-ounce buns. During some seasons we make Country White Pull Aparts. Besides being great for BLT or club sandwiches, try it with honey, jam or natural peanut butter.
Also Perfect for
Toasting
Sandwiches
Using in recipes
Serves 4 to 6
Recipe:
Jane and Michael Stern's Broccoli Casserole
Adapted from The Splendid Table: How to Eat Supper by Lynne Rosetto Kasper and Sally Swift
5 to 6 slices Breadsmith Country White Bread,
torn into bite-sized pieces
3 large eggs
¼ cup milk
4 tablespoons butter, melted
1 cup cheddar cheese, grated
1 teaspoon salt
3 tablespoons sugar
1 ½ to 2 cups broccoli, florets only, finely chopped
Preheat oven to 350°. Butter an 8-inch square baking dish. Place torn bread in bottom of dish. In a medium bowl, combine the eggs, milk, melted butter, cheese, salt and sugar. Stir in broccoli and pour the mixture over the bread. Cover with aluminum foil and bake for 35 minutes. For a chewier top, remove the foil for the final 10 to 12 minutes of baking.
Nutrition Information for Country White Bread
Ingredients: unbleached-unbromated wheat flour, water, granulated sugar, margarine, cage free eggs, salt, yeast
Serving size: 1/2" slice
110 calories
2 g total fat
210 mg sodium
20 g carbs
0 g fiber
0 g sugar
3 g protein
Serving size: 1 breadstick
340 calories
6 g total fat
630 mg sodium
60 g carbs
0 g fiber
8 g sugar
10 g protein
Serving size: 1 roll
210 calories
4 g total fat
390 mg sodium
38 g carbs
0 g fiber
5 g sugar
6 g protein

Country White is available every day in Edina, Minnetonka and St. Paul.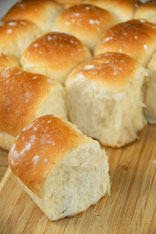 Country White Pull Aparts are made seasonally.