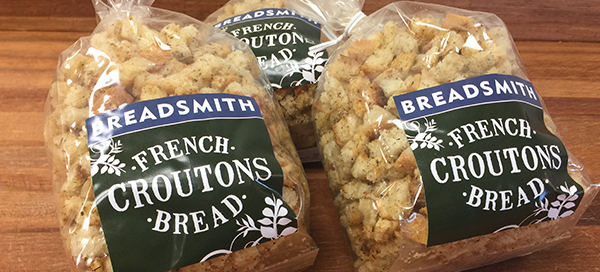 Croutons

Generously sized and delicious, Breadsmith Croutons are the perfect topper to any salad.
They are made with cubed French Boule, oil and Italian seasonings and browned in the oven until golden and crispy. They're irresistible!
Serving Suggestion
Our croutons go well with any salad.
Also Perfect for
Using in recipes
Serving at a festive occasion
Recipe:
Romaine Salad with Creamy Dressing
Adapted from foodnetwork.com, Rachael Ray
3 heaping tablespoons mayonnaise
1 lemon, zested and juiced
1 teaspoon coarse pepper
3 tablespoons extra-virgin olive oil
˝ cup grated Parmigiano-Reggiano
Pinch of salt
3 hearts romaine lettuce, chopped in 2 inch pieces
Breadsmith Croutons
Place lettuce in a salad bowl. In a small bowl, combine the mayonnaise, lemon zest and lemon juice and pepper. While whisking, add the extra-virgin olive oil in a steady stream to the mixture. Once combined, add the cheese and a pinch of salt. Top the lettuce with the dressing and the Breadsmith Croutons just before you are about to serve the salad.
Nutrition Information for Croutons
Ingredients: cubes of French Boule, olive oil, non-GMO canola oil, Italian seasoning (oregano, basil, thyme, rosemary, marjoram)
Serving size: 1 oz.
70 calories
1.5 g total fat
250 mg sodium
13 g carbs
1 g fiber
0 g sugar
2 g protein

Croutons are available every day in Edina, Minnetonka and St. Paul.