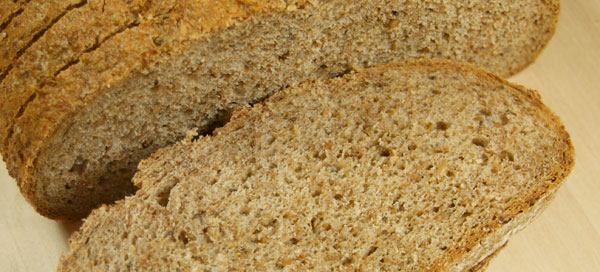 Austrian Pumpernickel

Austrian Pumpernickel is a lighter interpretation of traditional pumpernickel.
It is dotted with flavorful caraway seeds, which have a slight anise essence. Cracked wheat and rye meal also add to the flavor. It is 100% whole wheat, making it a high-fiber favorite of those who like bread with lots of personality.
Serving Suggestion
Austrian Pumpernickel makes a great sandwich. It is also delicious toasted on the side with soup, particularly cream-based soups which often have caraway seeds in them. Some love pumpernickel cubed and served with spinach dip.
Also Perfect for
Toasting
Sandwiches
Passing with dinner
Snacking
Serves 4
Recipe:
Smoked Trout Melt
Adapted from Relaxed Cooking with Curtis Stone, Random House Publishing
10 ounces smoked trout, skin and any bones removed;
flaked into large chunks
½ cup crème fraiche
1 gherkin pickle, finely diced
1 ½ tablespoons chopped fresh dill
1 ½ tablespoons fresh lemon juice
Salt and pepper
4 slices Breadsmith Austrian Pumpernickel
¼ cucumber, thinly sliced
4 slices Swiss cheese
Preheat the broiler. Toss the trout in a medium bowl with crème fraiche, gherkin, 1 tablespoon of the dill and the lemon juice. Season with salt and pepper to taste.
Place the Austrian Pumpernickel slices on a baking sheet in a single layer. Broil for about 1 minute per side. Then top the toast with cucumber and then the trout mixture. Broil for about 2 minutes or until the trout is warm. Add the slices of cheese, and broil again until the cheese has melted and is slightly golden, about 3 minutes. Garnish with remaining dill and serve these open face sandwiches immediately.
Nutrition Information for Austrian Pumpernickel
Ingredients: water, whole wheat flour, rye meal, cracked wheat, salt, caraway seeds, yeast
Serving size: 1/2" slice
120 calories
1 g total fat
150 mg sodium
25 g carbs
2 g fiber
0 g sugar
4 g protein
Serving size: 1 roll
220 calories
1.5 g total fat
280 mg sodium
46 g carbs
4 g fiber
0 g sugar
8 g protein

Austrian Pumpernickel is available Saturdays in Edina, Mondays in Minnetonka, and Mondays and Saturdays in St. Paul.