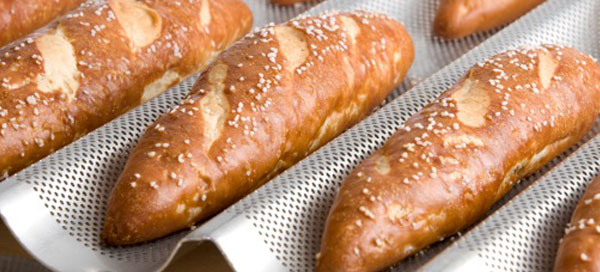 Pretzel

Wow. Youíve never had a soft Pretzel like this before.
Plump, chewy and flavorful with just the right amount of saltóthe other soft pretzels youíve had just canít compare.
Serving Suggestion
Serve with melted cheese and spicy mustard. Yum! They are great for parties.
Also Perfect for
Snacking
Serving at a festive occasion
(such as the big game!)
Gift giving
Recipe:
Cream Cheese Beer Dip
Try dipping Breadsmith Pretzels in this tasty dip.
2 8-ounce packages cream cheese, softened
3 tablespoons ranch dressing mix or 1 package ranch dressing mix
2 cups grated sharp cheddar cheese
2 green onions, chopped
Up to Ĺ cup beer (lager, amber or pale ale are
good choices)
In a medium bowl, combine cream cheese and ranch dressing mix. Once combined, stir in cheddar and green onions. Slowly add beer until it is the desired consistency. Cover and refrigerate at least one hour before serving (or overnight). Serve with Breadsmith Pretzels.
Nutrition Information for Pretzels
Ingredients: unbleached-unbromated wheat flour, water, non-GMO canola oil, granulated sugar, barley malt syrup, salt, yeast, kosher food-grade lye
Serving size: 1/2 pretzel knot
255 calories
4.5 g total fat
240 mg sodium
38 g carbs
1 g fiber
4 g sugar

Pretzels are available every day in Edina, Minnetonka and St. Paul.