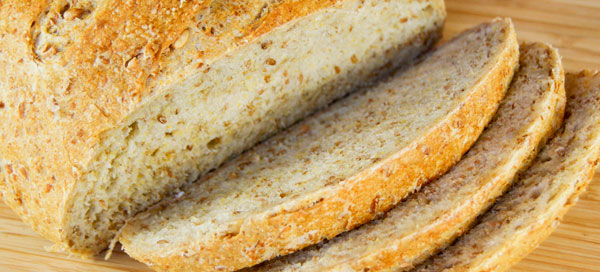 Multigrain

Our multigrain has a slightly more complex flavor due to the four grains: cracked wheat, cornmeal, rye meal and oats. There is the distinct flavor of sunflower seeds enhancing it all.
Serving Suggestion
Its flavor makes it an excellent foundation for your favorite sandwich. Try it toasted with a bit of smoked cheddar.
Also Perfect for
Toasting
Sandwiches
Passing with dinner
Snacking
Serves 4
Recipe:
Open-face Salmon Salad
with Curried Egg Sandwich
Adapted from wholeliving.com
1 7.5-ounce can wild Red Sockeye salmon
1 tablespoon plus 1 teaspoon extra-virgin olive oil
Zest of one lemon
1 tablespoon fresh lemon juice
2 teaspoons minced shallot
Freshly ground pepper
4 slices Breadsmith Multigrain Bread
4 hard-boiled eggs
1 ˝ teaspoon salt
˝ teaspoon curry powder
Sprouts for serving
In a small bowl, mix salmon and olive oil together, using a fork to flake the salmon. Stir in lemon zest, lemon juice, shallot and pepper. Spread onto bread slices. Peel and slice the eggs and place 2 slices on each piece of bread. In a small bowl, mix salt with curry powder and sprinkle over the egg slice. Scatter remaining lemon zest over them; top with sprouts and serve.
Nutrition Information for Multigrain
Ingredients: water, unbleached-unbromated wheat flour, cracked wheat, cornmeal, oats, rye meal, sunflower seeds, salt, yeast
Serving size: 1/2" slice
110 calories
1.5 g total fat
200 mg sodium
21 g carbs
2 g fiber
0 g sugar

Multigrain is available every day in Edina, Minnetonka and St. Paul.