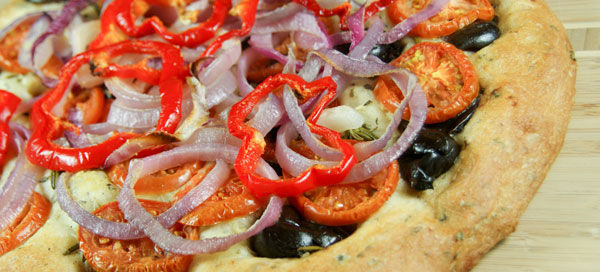 Focaccia

Breadsmith Focaccia is a round, flat, dimpled bread that is given a rich flavor with the inclusion of olive oil, garlic and Italian herbs. It is dusted with cornmeal, which enhances its texture.
A mosaic of ingredients tops this Italian flatbread:
Margherita: Roma tomatoes, basil, olive oil, garlic and cornmeal
Tourino: onions, rosemary, olive oil, garlic and cornmeal
Mediterraneo: Kalamata olives, Roma tomatoes, red peppers, onions, rosemary, olive oil, garlic and cornmeal
Plain: the version without toppings is equally delicious
Serving Suggestion
Itís great for sandwiches when sliced horizontally. It can also be cut into wedges to go on the side of any dish.
Also Perfect for
Sandwiches
Passing with dinner
Serving at a festive occasion
Gift giving
Serves 4 to 6
Recipe:
Grilled Italian Sausages and Tomatoes on Focaccia
Adapted from Martha Stewart Living, July 2006
4 tomatoes, halved crosswise
Salt and pepper
3 tablespoons extra-virgin olive oil
ľ cup fresh oregano leaves, coarsely chopped
6 fresh sweet, spicy or fennel Italian sausages
12 pieces Breadsmith Plain Focaccia, about 3 by 4 inches each
Heat grill to medium-high. Season tomatoes with salt and pepper and drizzle with two tablespoons of olive oil. Grill tomatoes, cut side down, until grill marks appear and they begin to soften, 5 to 7 minutes. Turn tomatoes and continue to grill until soft and juicy, but still holding shape, 5 to 7 minutes more. Transfer to a cutting board and coarsely chop. Transfer to a medium bowl and add oregano. Season with salt and pepper and drizzle with remaining oil and combine. Set aside.
Grill sausages, turning occasionally until browned and cooked through, about 12 minutes. Cut each sausage in half lengthwise.
Divide tomato mixture among Focaccia slices using a slotted spoon. Top each with a sausage half, cut side down. Serve immediately.
Nutrition Information for Focaccia (plain)
Ingredients: unbleached-unbromated wheat flour, water, olive oil, granulated sugar, garlic, salt, Italian herbs, yeast, dusted w/ cornmeal
Serving size: 1/8 focaccia
150 calories
2 g total fat
270 mg sodium
27 g carbs
0 g fiber
2 g sugar
5 g protein
Serving size: 1 breadstick
250 calories
4 g total fat
470 mg sodium
48 g carbs
1 g fiber
3 g sugar
8 g protein

Focaccia is available Fridays and Saturdays in Edina, Minnetonka and St. Paul.