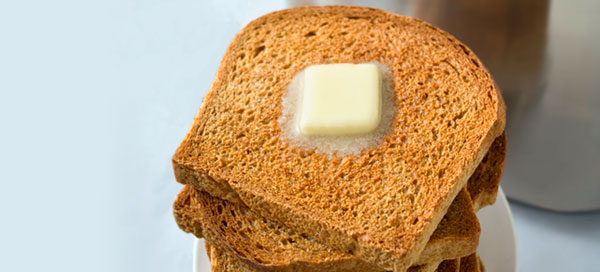 100% Whole Wheat

Our 100% Whole Wheat bread uses the best of stone ground flour. A hint of honey enhances the wheat flavor.
In whole grains, the bran and germ are not removed from the grain during milling, which means you enjoy more fiber and protein. Our 100% Whole Wheat contains 3.6 grams of fiber per half inch slice! According to the Mayo Clinic, a high-fiber diet may help reduce the risk of heart disease and diabetes. The foods highest in fiber include grains, whole grains, fruits, vegetables, beans and nuts. Another benefit? Fiber tends to make you feel fuller, longer.
Serving Suggestion
This hearty bread is versatile and can work in meals for breakfast, lunch or dinner.
Also Perfect for
Toasting
Sandwiches
Using in recipes
Serves 2
Recipe:
Hummus and Feta Sandwiches
on 100% Whole Wheat
Adapted from Bon Appetit, recipe by Jeanne Thiel Kelly, February 2009
To Make the Hummus
1 14- to 15-ounce can garbanzo beans (chickpeas), drained
1 garlic clove, peeled
3 tablespoons (or more) fresh lemon juice
3 tablespoons tahini (sesame seed paste)
2 tablespoons extra-virgin olive oil
2 teaspoons minced seeded jalapeŮo
Finely chop garbanzo beans and garlic in a food processor. Add 3 tablespoons lemon juice and remaining ingredients and process to coarse puree. Season to taste with salt and pepper and more lemon juice, if desired.
Assembling the Sandwiches
4 slices Breadsmith 100% Whole Wheat Bread
1 cucumber thinly sliced
8 fresh mint leaves
4 fresh cilantro sprigs
4 ounces feta cheese, cut into 1/4-inch-thick slices
Spread 2 tablespoons hummus over each bread slice. Top 2 bread slices with sliced cucumber, mint and cilantro, dividing equally. Arrange slices of feta atop cilantro. Top each with second bread slice and press gently to compact slightly. Cut sandwiches in half.
Nutrition Information for 100% Whole Wheat
Ingredients: whole wheat flour, water, honey, salt, yeast, wheat gluten
Serving size: 1/2" slice
120 calories
1 g total fat
230 mg sodium
26 g carbs
3 g fiber
4 g sugar
4 g protein
Serving size: 1 roll
230 calories
1.5 g total fat
470 mg sodium
51 g carbs
7 g fiber
8 g sugar
8 g protein

100% Whole Wheat is available every day in Edina, Minnetonka and St. Paul.