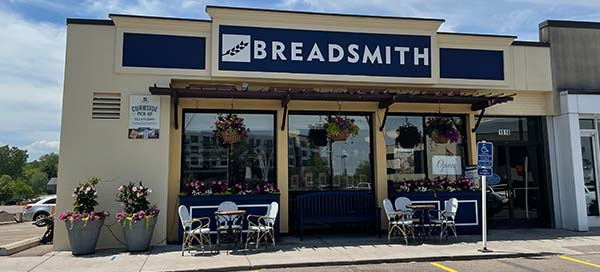 About

Breadsmith is your neighborhood place for the finest breads.
Breadsmith uses the highest quality ingredients to create hand-crafted breads made from scratch and baked fresh daily. Our French Baguette, Sourdough, Chocolate Babka, Pumpkin Bread and others have given simple pleasures to our customers since 1994.
Breadsmith has a strong focus on taste and freshness; that's why all the bread in our bakery is baked fresh each day. And because produce in its peak season tastes best, we only make certain items when they're in season. For example, we only make Lemon Blueberry Bread when blueberries are in season.
Breadsmith in the Community
Breadsmith is active in the community. We donate more than 10,000 loaves of bread each year. We participate in hundreds of silent auctions by donating bread, and we donate bread to many organizations for special events. Breadsmith also participates in farmers markets in Richfield and Maple Grove.
Bakery Tours
We welcome groups for behind-the-scenes tours of the bakery. This complimentary tour shows the bread-baking process. Groups of eight to ten have the opportunity make bread and bring a freshly baked baguette home. This activity is great for adults and kids.
Bakery tours are great for:
Family outings
Book clubs
Scout troops
Daycare field trips
And more
Call 952-475-0099 and ask for Dave or email david@breadsmithMN.com.
Our Unconditional Guarantee
If you are not satisfied with the quality of the bread you purchased, please bring in the loaf and have a fresh one on us.
Join Our Team
Contact Human Resources or fill out our application if you are interested in current or future job opportunities.

We'd love to hear from you.