The Collection

Hand-selected Gifts and Goods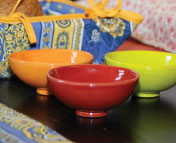 Pottery by Valerie
Dipping and serving bowls
Vivid colors make these dipping and serving bowls so appealing. Handmade by a friend of Breadsmith in the village of Marcq-en-Baroeul, France two hours from Paris. Food safe. $39.95 salad bowl, $11.95 dipping bowls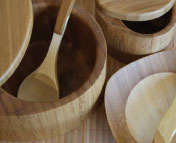 Totally Bamboo
Cutting boards and kitchen accessories
Bamboo makes an excellent addition to kitchens. Bamboo is one of our world's most renewable resources and is actually harder than maple. $2.95-$49.95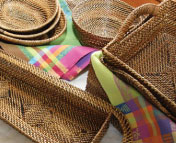 Calaisio Baskets
Assorted shapes and sizes
Deep-hued baskets woven with Nito vine grown in the Philippines. They're structurally strong and suitable for everyday use.
$26.95–43.95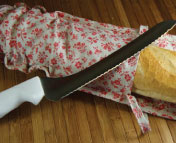 Dexter Russell
Serrated Bread Knife
As bread bakers, we've tried a number of bread knives. This Dexter Russell knife is the best. We use it here at Breadsmith. Its offset handle allows for even slicing. $26.95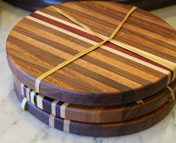 Happy Hands Woodworking
Cutting Boards
These high-quality cutting boards are made from a variety of hardwoods and finishes. They come in a variety of shapes and sizes and are a wonderful addition to any chef's kitchen. They are made locally by Michelle and Steve Lundborg. $24.95–44.95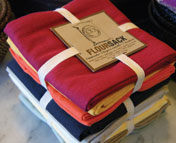 Flour Sack Kitchen Towels
Assorted colors
Handy towels that are sure to brighten up your kitchen.
$10.25 for set of three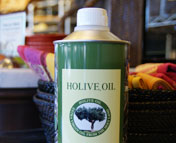 Holive Oil
Holive Oil is first cold press extra virgin olive oil from the Holy Land. It's 100 percent pure and delicious. $27.95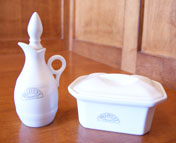 Pillivuyt Porcelain
Oil/Vinegar Bottles and butter Dishes
Pillivuyt porcelain is known internationally for its detail and fine design (at Minnetonka and Edina locations only).
$24.95-$31.95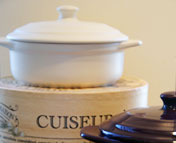 Petite Maison by Wildly Delicious
Brie Baker
The Brie baker makes appetizers easy. Just place an unwrapped wheel of Brie in the dish and top with desired toppings. Heat in a 350-degree oven for about 10 minutes and serve in the baker with baguette slices or Crostini on the side. $18.95–32.95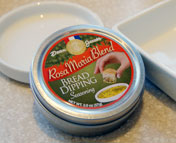 Dean Jacobs Rosa
Maria and Tuscany Blends
Dipping Seasoning
Delicious! Just add your favorite olive oil and serve with baguette slices. $4.50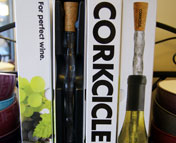 Corkcicle
Enjoy perfectly chilled wine. Corkcicle keeps white wine chilled for up to an hour and cools down red wine to the proper drinking temperature in 15 minutes.
$24.95-$31.95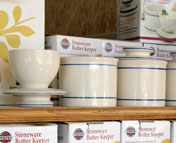 Stoneware Butter Keeper
Butter stays soft and fresh for up to 30 days without refrigeration with the butter keeper. Water is used to provide an airtight seal protecting the flavor and freshness. $10.00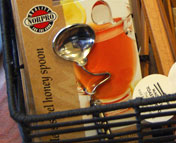 Honey Jam Spoon
Get honey for your tea or toast without a mess. This spoon features a long handle with a bend that allows it to rest easily on the edge of a jam or honey jar—or on your teacup. Made of stainless steel. $6.95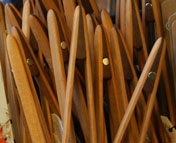 Toaster Tongs
Our Toaster Tongs are handcrafted in the US from cherry wood, which is a durable hardwood with beautiful color and grain. It also has a strong magnet so you can stick it to your toaster or refrigerator. $14.95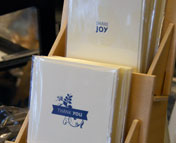 Greeting Cards
These beautiful greeting cards were designed and letterpress printed in Minnesota especially for Breadsmith. They are the perfect touch to your gift. $4.95