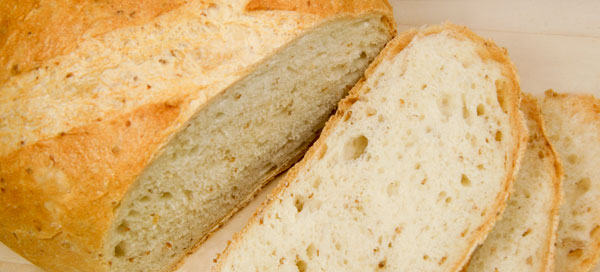 French Peasant

French Peasant, our signature loaf, is unique with its addition of cracked wheat.
You can see the cracked wheat dotted throughout the bread, and it adds texture and depth of wheat flavor. The top of the loaf is a darker hue with a crispy crust.
Serving Suggestion
Part of what makes French Peasant so wonderful is its versatility. Experiment with different toppings. Try the dinner rolls; they are pleasing to both the wheat and white bread lovers!
Also Perfect for
Toasting
Sandwiches
Passing with dinner
Serves 4
Recipe:
Cucumber, Sweet Onion and Mint with Curried Mayonnaise
Adapted from Epicurious.com, Gourmet, June 1990
Ĺ cup mayonnaise
1 teaspoon curry powder
8 slices Breadsmith French Peasant
1 cucumber, peeled if desired and sliced thinly
on the diagonal
1 sweet onion, such as Vidalia, sliced thinly
Ĺ cup fresh mint leaves
Combine the mayonnaise and curry powder in a small bowl. Spread the mayonnaise on one side of each side of the bread. Layer half of the bread slices with cucumber, onion and mint. Sprinkle with salt and pepper. Top the sandwiches with the other slice of bread and press firmly. Serve.
Nutrition Information of French Peasant
Ingredients: unbleached-unbromated wheat flour, water, cracked wheat, salt, yeast
Serving size: 1/2" slice
110 calories
0 g total fat
240 mg sodium
23 g carbs
0 g fiber
0 g sugar
4 g protein
Serving size: 1 roll
230 calories
1 g total fat
510 mg sodium
49 g carbs
0 g fiber
1 g sugar
9 g protein

French Peasant is available every day in Edina, Minnetonka and St. Paul.