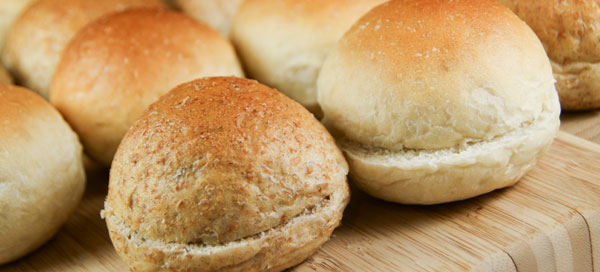 Mini Sandwich Buns

Mini Sandwich Buns (also known as banquet buns) are made with our Honey White or Honey Wheat Bread dough. At times we also make them with our classic Country White recipe.
Their light texture and lightly golden crust is a favorite of children and adults alike. Take home a bakerís dozen today!
Clover Buns are made seasonally and as a special order at all three locations.
Serving Suggestion
Our Mini Sandwich buns (2.5 oz.) are perfect for sliders! They make an excellent accompaniment to your meal.
Also Perfect for
Sandwiches
Passing with dinner
Using in recipes
Serving at a festive occasion
Serves 6 to 8
Recipe:
Sliders with Chipotle Mayonnaise
Adapted from FoodNetwork.com, Bobby Flay
Chipotle Mayonnaise:
1 cup mayonnaise
2 chipotles in adobo sauce
1 tablespoon adobo sauce
Juice from Ĺ a lime
Salt and pepper
Sliders:
1 to 1 Ĺ pounds ground chuck, 80 percent lean and 20 percent fat
Salt and pepper
Cheese slices, your choice
Breadsmith Mini Banquet Buns
In a food processor combine mayonnaise, chipotles, adobo sauce and lime juice. Puree until smooth. Season to taste with salt and pepper. Preheat grill over medium-high heat. Pack meat tightly in 2- to 3-ounce portions. Season with salt and pepper.
Place the sliders on the grill and grill about 4 to 5 minutes or until they are nice and crusty on the first side. Flip and grill another 4 minutes. When the sliders are nearly done, top with cheese if desired. Close the grill, allowing the cheese to melt.
Place the sliders on Breadsmith Mini Sandwich Buns and top with chipotle mayonnaise and any other desired toppings.
Nutrition Information for Mini Sandwich Buns
Mini Sandwich Buns are 2.5 oz. and are made from the same recipe as Honey Wheat and Honey White.

Mini Sandwich Buns (in Honey White or Honey Wheat) are available everyday in Edina, Minnetonka and St. Paul.