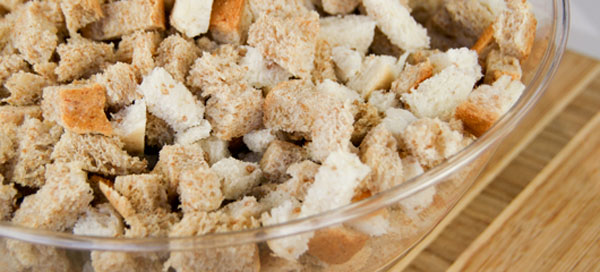 Stuffing

Breadsmith Stuffing is as good as it gets!
You may find white, wheat, wheat/white combination, multigrain or other. Made fresh from our fine Honey White, Honey Wheat, Country White and Multigrain loaves you can sample the taste year-round. Every bag is otherwise unseasoned so you can use it in your favorite recipe. You'll be pleased with the result!
Serving Suggestion
How Much Stuffing Do You Need?
| | |
| --- | --- |
| Turkey Size (pounds) | Cups of Stuffing |
| 10-12 | 8-10 |
| 13-18 | 11-14 |
| 19-24 | 15-18 |
| 25-30 | 19-22 |
A bag of Breadsmith Stuffing is approximately 2½ pounds or 24 cups of bread cubes.
Serves 8 to 10
Recipe:
Mom's Stuffing Recipe
Adapted from SimplyRecipes.com
1 loaf day old French bread, cut into ¾-inch cubes (about 10 to 12 cups) OR 10 to 12 cups Breadsmith Stuffing
1 cup walnuts
2 cups chopped onion
2 cups chopped celery
6 tablespoons butter, divided
1 green apple, peeled, cored and chopped
¾ cup raisins or currants
5 to 10 chopped green olives with pimento
1 to 2 cups chicken stock
¼ cup chopped fresh parsley
1 teaspoon poultry seasoning or ground sage
Salt and pepper to taste
Gently toast walnuts in a dry frying pan for a few minutes until lightly browned and fragrant. Cool and lightly chop them. Heat large sauté pan on medium. Melt 3 tablespoons butter in the pan and add the bread, stirring to coat. Then let them toast, only turning when they've become lightly browned. (If you are not using day-old bread or Breadsmith Stuffing, you'll need to dry out the bread before toasting to avoid a mushy stuffing. Put the bread cubes in a hot oven for 10 minutes or so, until dry but not browned.)
In a large Dutch oven, melt remaining butter and sauté onion and celery on medium-high heat until cooked through, about 5 to 10 minutes. Add the bread, walnuts, apple, raisins, olives and parsley. Add one cup of chicken stock, or enough to keep the stuffing moist while cooking it. Add sage or poultry seasoning, salt and pepper.
Turn the heat to low and cover. Cook for an hour or until the apples are cooked through. Check every ten minutes or so and add water or stock as needed while cooking to keep the stuffing moist and keep it from sticking to the bottom of the pan.

Breadsmith Stuffing is available seasonally just before Thanksgiving and just before Christmas.