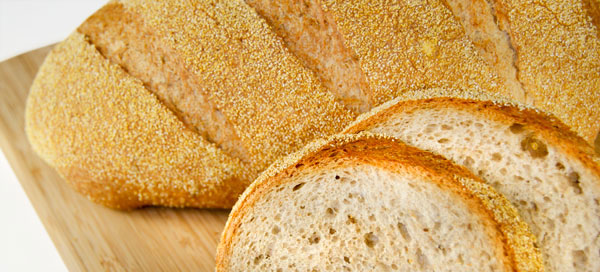 New York Style Rye

New York has long been famous for its delisí rye bread. We have created this mild rye with caraway seeds with New York as our inspiration. It is lightly dusted with cornmeal to add to the texture.
Serving Suggestion
Try the delightful taste with smoked turkey.
Also Perfect for
Toasting
Sandwiches
Passing with dinner
Snacking
Bringing to the office
Serves 1
Recipe:
Reuben Sandwich
Adapted from Epicurious.com
2 slices Breadsmith New York Style Rye
2 teaspoons butter, room temperature
2 tablespoons Russian dressing
ľ cup well-drained fresh-style sauerkraut
2 ounces thinly sliced Gruyere or Swiss cheese
ľ pound thinly sliced corned beef
Butter one side of both slices of bread. Place one slice buttered side down in a small cold skillet. Spread 1 tablespoon of the dressing on the face-up side of bread in the skillet. Then put on the sauerkraut evenly. Top with the cheese in an even layer and then the same with the corned beef. Place remaining dressing on the dry side of the other slice of bread; place this on the corned beef, dressing side down.
Heat the skillet over medium-low heat and grill the sandwich slowly, pressing down on it a few times with a wide spatula. Grill until the bread is browned and crisped and then turn the sandwich over with a spatula.
Weight the sandwich down by placing a plate or another small skillet over the sandwich, then adding on a weight, such as a 28 ounce can of tomatoes. Grill until the second side has browned and crisped, then flip sandwich over one more time to briefly reheat the other side. Serve immediately.
Nutrition Information for New York Style Rye
Ingredients: unbleached-unbromated wheat flour, water, rye meal, malt syrup, salt, caraway seeds, yeast, dusted w/ cornmeal
Serving size: 1/2" slice
110 calories
0 g total fat
160 mg sodium
23 g carbs
0 g fiber
1 g sugar
3 g protein
Serving size: 1 roll
240 calories
0.5 g total fat
350 mg sodium
51 g carbs
0 g fiber
1 g sugar
8 g protein

New York Style Rye is available Mondays, Thursdays and Fridays in Edina and St. Paul and every day in Minnetonka.