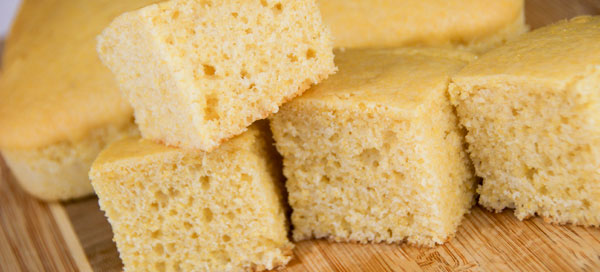 Traditional Cornbread

Our Traditional Cornbread is slightly sweet. It is soft in texture with telltale cornmeal texture.
Serving Suggestion
Great to serve with butter and a bit of honey.
Also Perfect for
Passing with dinner
Serving at a festive occasion
Nutrition Information for Traditional cornbread
Ingredients: organic soy milk, unbleached-unbromated wheat flour, cornmeal, granulated sugar, organic eggs, margarine, water, baking powder, salt
Serving size: 1/2" slice
110 calories
1 g total fat
230 mg sodium
22 g carbs
1 g fiber
6 g sugar

Traditional Cornbread is made in October and November.
A perfect item to pre-order for Thanksgiving. See the Edina, Minnetonka or St. Paul Bread Schedule for details.