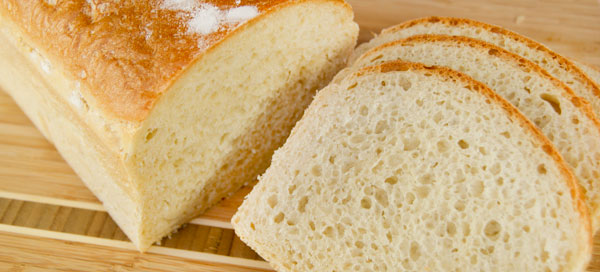 English Muffin Bread

Our English Muffin Bread is light with a honeycomb texture.
It's like traditional English Muffins, with its dusting of cornmeal, but it is shaped as a loaf. It is subtly tangy. Slice it as thick as you'd like and enjoy it toasted.
Serving Suggestion
This is the ideal breakfast bread. Try it toasted with a poached egg on top. It's also delicious with butter, peanut butter, jam or honey. You can even use it for French toast!
Also Perfect for
Serves 6
Recipe:
Prosciutto and Goat Cheese Strata
Adapted from Epicurious.com, Bon Appetit, December 2003
18 slices Breadsmith English Muffin Bread, crusts removed
6 ounces prosciutto, thinly sliced
8 ounces goat cheese, crumbled
4 ounces provolone, grated (about 1 ½ cups)
¼ cup chopped green onion
6 tablespoons basil, thinly sliced
5 large eggs
2 cups whole milk
1 tablespoon Dijon mustard
½ teaspoon salt
3 tablespoons butter, melted
The night before you wish to serve the dish, line the bottom of a 13 x 9 baking dish with one layer of English Muffin Bread, cutting some slices to fit. Evenly top with half of the prosciutto. Then sprinkle on half of the goat cheese and half of the provolone. Top that with half of green onions and half of basil. Add a second layer of English Muffin Bread. Repeat the layers using the remaining prosciutto, goat cheese, provolone, green onions and basil. Cut remaining bread into ¼ inch cubes and spread over the top.
In a large bowl, whisk together the eggs, milk, mustard, salt and pepper. Pour this mixture over the strata and press down with a spatula. Drizzle melted butter over the strata. Cover and refrigerate overnight.
Preheat oven to 350°. Uncover the strata and let sit at room temperature for 30 minutes. Bake until the center is set, about 1 hour. Remove from oven, preheat broiler. Place strata under broiler until top is golden, about 30 seconds. Cut into large squares and serve.
Nutrition Information for English Muffin Bread
Ingredients: unbleached-unbromated wheat flour, water, non-GMO canola oil, salt, vinegar, yeast, granulated sugar, dusted w/ cornmeal
Serving size: 1/2" slice
90 calories
.5 g total fat
200 mg sodium
18 g carbs
1 g fiber
1 g sugar

English Muffin Bread is available Wednesdays, Saturdays and Sundays in Edina; daily in Minnetonka; and Tuesdays, Wednesdays, Saturdays and Sundays in St. Paul.