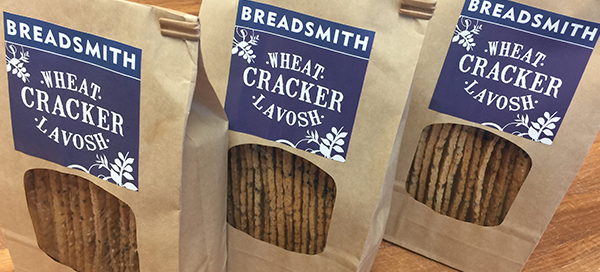 Wheat Lavosh Crackers

Our crispy Wheat Lavosh Crackers are lightly browned for depth of flavor.
Lavosh is a traditional flatbread popular in areas of the Middle East. Our version is made with sesame seeds and olive oil, and they are the perfect addition to any party tray.
Serving Suggestion
Serve with hummus, babaganoush or other dips as an appetizer or snack.
Also Perfect for
Snacking
Serving at a festive occasion
Recipe:
Babaganoush
Adapted from Food Network, recipe by Ellie Krieger, 2006
1 large eggplant (about 1 pound)
1 clove garlic, minced
¼ teaspoon salt
¼ cup finely chopped fresh flat-leaf parsley, plus more for garnish
2 tablespoons tahini
2 tablespoons lemon juice
Preheat oven to 450°. With a fork, prick the eggplant and place it on a cookie sheet lined with tin foil. Bake about 20 minutes, until soft inside. Let eggplant cool and cut in half. Drain the juices and scoop out the pulp into a food processor. Blend until smooth or slightly chunky, depending on your preference. On a cutting board, work garlic and salt into a paste with the flat side of a knife. Add into eggplant mixture, along with parsley, tahini and lemon juice. Season with salt to taste. Garnish with parsley and serve with dippers such as carrots and Breadsmith Wheat Lavosh Crackers.
Read More
http://www.foodnetwork.com/recipes/ellie-krieger/babaganoush-recipe/index.html
Nutrition Information for Wheat Lavosh Crackers
Ingredients: unbleached-unbromated wheat flour, water, whole wheat flour, sesame seeds, olive oil, salt, granulated sugar, yeast
Serving size: 2 crackers (1 ounce)
120 calories
3 g total fat
210 mg sodium
20 g carbs
2 g fiber
1 g sugar
4 g protein

Wheat Lavosh Crackers are available every day in Edina, Minnetonka and St. Paul.