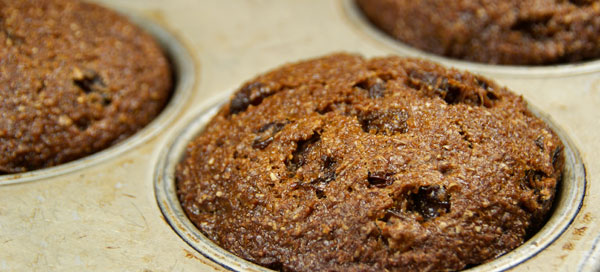 Bran Muffins

These Bran Muffins have a lovely deep color from the touch of molasses. Applesauce keeps them moist and raisins add a great brightness.
A dash of cinnamon adds an excellent depth of flavor. Each serving has three grams of fiber. Be sure to get a sample—or a mini muffin—next time you're in.
Serving Suggestion
Enjoying this muffin is a way to relish your morning while getting in a healthy dose of fiber.
Also Perfect for
Nutrition Information for Bran Muffin
Ingredients: organic soy milk, raisins, unbleached-unbromated wheat flour, water, applesauce, wheat bran, whole wheat flour, granulated sugar, brown sugar, molasses, cage free eggs, non-GMO canola oil, baking soda, cinnamon, salt
Serving size: 1 muffin
440 calories
6 g total fat
390 mg sodium
94 g carbs
9 g fiber
48 g sugar
10 g protein

Bran Muffins are available often and also can be made by special request.