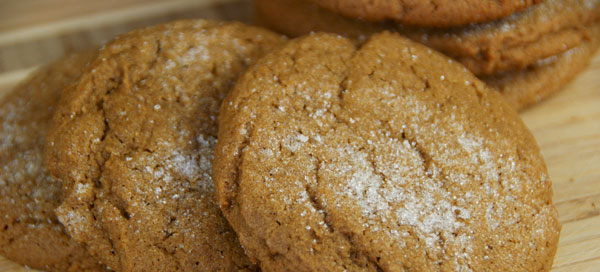 Soft Gingerbread Cookie

Spicy and rich with a chewy texture—Breadsmith Soft Gingerbread Cookies, made with brown sugar, molasses, cinnamon and ginger, are something special!
Serving Suggestion
Great for your holiday cookie exchange.
Also Perfect for
Snacking
Bringing to the office
Serving at a festive occasion
Gift giving
Nutrition Information for
Soft Gingerbread Cookie
Ingredients: unbleached-unbromated wheat flour, brown sugar, margarine, cage free eggs, granulated sugar, molasses, cinnamon, baking powder, baking soda, ginger, salt
Serving size: 1 cookie
260 calories
10 g total fat
250 mg sodium
39 g carbs
0 g fiber
23 g sugar
3 g protein

Soft Gingerbread Cookies are made in December.
When in season, they are available every day. Check the bread schedule in Edina, Minnetonka and St. Paul.