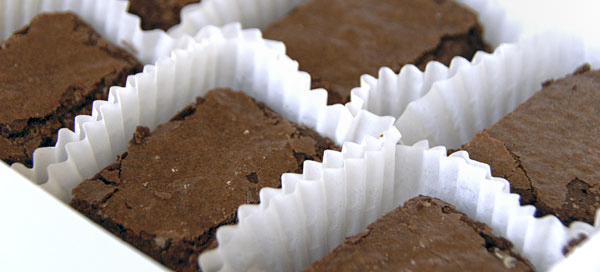 Brownie

Are you a Brownie connoisseur? You have to try them at Breadsmith.
These velvety Brownies melt in your mouth. They have a cakey texture with a touch of gooeyness. Itís comfort food at its best!
Serving Suggestion
Try it warm with a scoop of vanilla ice cream on top. Also try our mini Brownie Bites!
Also Perfect for
Snacking
Bringing to the office
Serving at a festive occasion
Gift giving
Nutrition Information for Brownie
Ingredients: granulated sugar, semi-sweet chocolate chips, unbleached-unbromated wheat flour, cage free eggs, margarine, cocoa, vanilla
Serving size: 1 Large
960 calories
46 g total fat
400 mg sodium
136 g carbs
5 g fiber
97 g sugar
13 g protein
Serving size: 1 Brownie Bite
160 calories
8 g total fat
65 mg sodium
22 g carbs
1 g fiber
16 g sugar
2 g protein

Brownies are made every day.
For pre-orders see the bread schedule for details or call the bakery in Edina, Minnetonka and St. Paul.