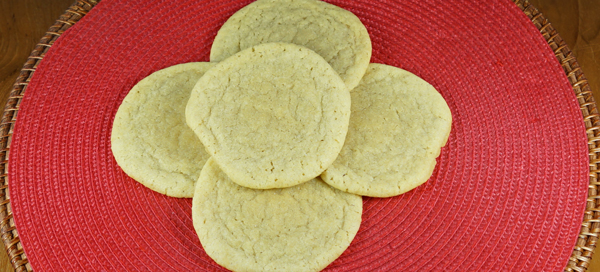 Lemon Sugar Cookie

Here's a soft cookie with a spark of citrus. It is quickly becoming one of our most popular recipes. Baked thin, this cookie stays soft in the package until you've enjoyed them all. Granulated sugar adds a seductive crunch.
Serving Suggestion
Try with a small scoop of sorbet or ice cream and a few mint leaves for a refreshing and memorable dessert!
Also Perfect for
Gift giving
Celebrating with the team
Serving as a dessert
Late night cravings
Nutrition Information for
LEMON SUGAR COOKIE
Ingredients: Unbleached-unbromated wheat flour, granulated sugar, margarine, cage free eggs, powdered sugar, baking soda, vanilla, lemon peel, lemon extract, salt
Serving size: 1 cookie
230 calories
8 g total fat
170 mg sodium
35 g carbs
0 g fiber
20 g sugar
3 g protein

Lemon Sugar Cookies are made starting in the Spring and lasting into Summer.
When in season, they are available every day. Check the bread schedule in Edina, Minnetonka and St. Paul.