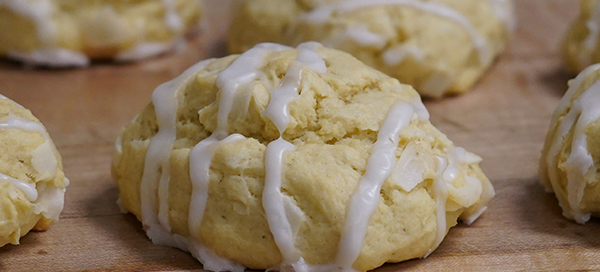 Coconut Scone

Calling all coconut lovers!
These scones have a copious amount of coconut. Large organic coconut flakes are mixed in the dough with coconut extract. We then drizzle a vanilla-coconut icing over the top. They are perfectly decadent!
Serving Suggestion
Enjoy with hot or cold citrus-infused tea.
Also Perfect for
Brunch
Snacking
Bringing to the office
Gift giving
NUTRITION INFORMATION FOR COCONUT SCONE
Ingredients: unbleached unbromated wheat flour, organic soy milk, margarine, granulated sugar, organic coconut flakes, cage free eggs, baking powder, coconut extract, salt, baking soda, vanilla
Serving size: 1 scone
600 calories
24 g total fat
770 mg sodium
84 g carbs
2 g fiber
35 g sugar
10 g protein
Serving size: 1 mini scone
270 calories
11 g total fat
350 mg sodium
38 g carbs
1 g fiber
16 g sugar
5 g protein

Coconut Scones are made February–May.
When in season, the scones are available every day. Check the bread schedule in Edina, Minnetonka and St. Paul.