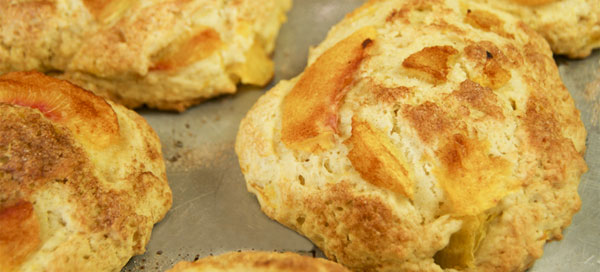 Colorado Peach Scone

Why get peaches from Colorado?
They have the best, according to Gourmet and many adoring fans around the country (no offense to Georgia!). Colorado's 300 days of sunshine a year, cold winters and rich volcanic soil make for great peach-growing conditions. These scones have thinly sliced fresh peaches and are topped with a sprinkle of cinnamon and sugar. They are moist and delicious.
Serving Suggestion
Celebrate peach season. Serve these at a brunch.
Also Perfect for
Brunch
Snacking
Bringing to the office
Gift giving
Nutrition Information for
Colorado Peach Scone
Ingredients: unbleached unbromated wheat flour, fresh peaches, organic soy milk, margarine, granulated sugar, cage free eggs, baking powder, cinnamon, salt, baking soda
Serving size: 1 scone
550 calories
19 g total fat
840 mg sodium
87 g carbs
1 g fiber
34 g sugar
11 g protein
Serving size: 1 mini scone
210 calories
7 g total fat
320 mg sodium
33 g carbs
0 g fiber
13 g sugar
4 g protein

Colorado Peach Scones are available a few days in August.
Check the bread schedule in Edina, Minnetonka and St. Paul.